Discord bots are amazing. They are automated scripts that do a variety of things around your Discord server. They can help you moderate the server, keep track of important numbers, and even add a bit of fun or flair to your server.
The problem is that there are so many Discord bots out there, it's hard to figure out which ones you need for your server. Which is the best bot for moderation or keeping track of recruits?
This list of the best Discord bots will help you sort through the fluff and use the best bots for your server!
What Are Discord Bots?
Discord bots are online robots that perform specific functions in your server. Some use webhooks to integrate with other applications. Others are chatbots that send specific messages at specific times. Others still have customizable interfaces that allow you to do a plethora of different things.
When your server is small, you can do most of these things on your own. However, as you grow your Discord community, it gets harder and harder to manage, and that's where the automation of discord bots can really come in handy.
Which Discord Bots Do I Need for My Server?
Every server is different, and every creator has different bot needs. There are numerous bots that do similar things, and it's the owner's (or moderators) choice on which bot to use for any specific function.
However, to help get you started, we've developed a list of the most common and easy-to-use bots for Discord. This will get you started with moderation and adding a bit of fun to your server. As you grow your community and learn more about Discord, you may come across additional bots with increased functionality that will do the specific things you need, but this list will get you started with the best general Discord bots.
The Best "Everything" Discord Bots
Every server needs a bot that will help with moderation, keep track of things, and help you keep the discord organized. There are three bots that do these things, and it's your choice which one you want to use.
MEE6
MEE6 is the go-to Discord bot for moderation. It can automatically detect swear words, spam, or other trigger words you set up. In addition, it has a plethora of commands for helping you moderate your discord server. These include commands for banning a user, muting a user, utilizing slow mode on a channel, and more.
The functionality of MEE6 isn't limited to moderation. It has a number of plugins designed to help you create an engaging server. This includes a ranking feature that tracks how active each user is with a leveling system and the ability to send automated, customized welcome messages. These messages can be sent in a specific channel in your discord or even as a direct message to the new member.
The premium version of MEE6 offers even more. You can automatically assign new roles to users who reach certain levels or integrate multiple Twitch channels into your server with the premium features. You can also integrate a Twitter feed, or Youtube feeds into your Discord server with the premium version.
A big advantage of MEE6 is its ease of use. You can customize most of the bot's features directly from the online dashboard. If you don't have a programmer on your team and need an easily customizable bot for moderation, MEE6 is probably your best option.
YAGPDB
YAGPDB stands for "yet another general-purpose discord bot." And it delivers on its name. It offers similar moderation to MEE6, but it's not as "out of the box" ready as MEE6 is. While MEE6 offers the features in an easy and ready-to-use point and click format, YAGPDB allows you to build your own rules and set them as you please. This is beneficial to those with programming experience who know exactly what they want out of a moderator bot but a little overwhelming for those who don't know a lot about bot programming.
A cool feature of YAGDB over MEE6 is that it offers enhanced integrations with Reddit and Youtube for free. This might be an important feature to have if you are a Youtube content creator utilizing your Discord server to connect with fans, and the only way to get it with MEE6 is to pay for it.
Another perk to YAGDB is its ticketing system. You can create and customize "tickets" in this bot to do anything that you'd need them to do. For example, if your Discord is related to IT help, you can configure YAGPDM to create and queue helpdesk tickets. Users can create a ticket for help, and the IT personnel can then see the queue of tickets and respond to them. Programming this feature requires some knowledge about how Discord works, but most people should be able to figure it out with a little research.
NightBot
Nightbot is usually the first bot streamers turn to for help with Discord, and that's mostly because it's free. Although both the MEE6 and YAGDP bots offer free services, you have to pay for their premium services if you want to do things like set timers or get fancy in other ways.
Nightbot allows you to set timers for free, but it's also very strict. If you don't change the settings immediately, it will yell at all of your members for using things like caps and emotes. However, it is very user-friendly and easy to figure out, so it's a great option for folks who want basic moderation without the bells and whistles.
Another perk of Nightbot is that it works for both Discord and Twitch. If you are Twitch streamer and want one bot to do all of the automation on both platforms, Nightbot is a great choice.
Carlbot
Carlbot is another basic moderation discord bot. It's not quite as good as MEE6 when it comes to moderation and ease of use, but it does offer one really great perk: automated roles.
Most of the other bots on this list offer that as well, but Carlbot offers far more in role management and reaction roles capabilities. Reaction roles are great because they allow users to choose their own roles by reacting to a post with an emoji. For example, if you are building a streaming community and want to know who is an affiliate vs. a fan, you can write a post and ask users to react with a certain emote for affiliate and a different emote for a fan. Once the user reacts with the emote, they will be automatically assigned the role.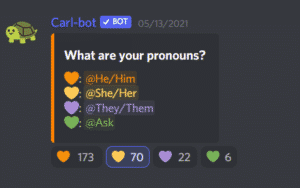 You can use Carlbot to atomically assign roles to new members as they enter and to set up a welcome page that forces users to accept rules and conditions before being granted access to the full server.
Although MEE6 does offer similar functionality, Carlbot gives you more reaction roles for free. I use both in my server and count on MEE6 for my moderation needs and Carlbot for my reaction role needs.
The Best Discord Bots for Business
There are so many things you can do with a Discord server. Most of the general-purpose bots are focused heavily on streaming and content creation, but if you are using your server for a different purpose, then you might not be able to get everything you need from them.
Many Discord bots were designed with businesses in mind. These bots can help you integrate other websites with Discord, manage tasks, schedule events, and even host giveaways.
These bots are extremely helpful if your discord server is designed for business, customer support, or increasing engagement.
Project Management – Taco Bot
Trello is one of the most widely used project management applications there is, and of course, there's a bot that allows you to integrate Trello with Discord. This is called TacoBot (not to be confused with Taco Bell's Taco Bot, a test bot that was meant to allow users to order Taco Bell directly from their Slack messaging app).
TacoBot automatically posts any updates made to your Trello board into Discord so that users can view the updates directly from the messaging app. This will let them know when a change is made that they need to act upon or let them know that a project is moving forward. It's a great way to keep all team members engaged in the project without having to stay logged into Trello.
Scheduling – Apollo
Apollo is a bot that helps you set up and schedule events. With Apollo, you can create new events and invite members based on their roles. Members have the ability to accept or decline the event by using reaction emojis.
Apollo makes scheduling and remembering events easy. You can automate reoccurring events and configure Apollo to send reminders to those who signed up. In addition, Apollo adjusts for time zones, so you only need to set up one event notification, even if you have people from all over the world in your server.
Ticketing – Helper.gg
Although YAGPDB has ticketing functionality that will work for most bots, if you are creating a Discord server that's dedicated to customer service, you will need a ticketing bot with more functionality.
Helper.gg is a great bot for all of your ticketing needs. The interactive panel gives you the ability to respond to tickets directly and create staff accounts so that others have access to the tickets. The basic functionality for Helper.gg is free, but they offer a wide range of premium services on paid plans.
RSS Feeds – MonitoRSS
Whether your discord server is for a blog or keeping up with a certain news feed, MonitoRSS is the perfect bot for you. You can program up to five RSS feeds into the free version of this bot. Once you program the feeds, the bot will automatically update the specified channel with the latest post for that feed.
For example, if you are a blogger, you can create a specific channel in your discord for "New Blog Posts." Then you can add your RSS feed to the MonitoRSS dashboard, and your newest posts will automatically be displayed in your discord channel. This is a great way to notify fans that your new content has been posted.
This bot works the same for any type of RSS feed. If your Discord is about keeping up with a certain industry, you can program the top news sites in that industry's RSS feeds, so you never miss an important update.
Hosting Giveaways – GiveAway Bot
Many businesses, especially those in content creation, like to host giveaways for their fans, followers, and customers. GiveAway bot helps you create these giveaways with ease.
Use this bot to create contests and giveaways that keep the members of your server engaged. It's easy to set up and mostly free, though the creators do have a robust community of donors on Patreon.
Discord Bots that Track Statistics
Sometimes, it's important to track specific statistics, such as recruitment numbers or activity in a certain channel. Many bots can accomplish these functions, but these are my favorites.
Manage-Invite
Manage-Invite is a discord bot that tracks recruitment. It tells you who invited each member into the server and keeps a count of how many people each recruiter has invited.
This is a great bot to have if you are a public discord that is actively recruiting new members. Some servers offer recruitment rewards, so this is a great way to keep track of who is doing the majority of your recruitment.
Statbot
Statbot is the best way to keep track of user statistics. This bot can drill down to specific channels to tell you who has sent the most messages in a specific channel or who has been the most active in a specific voice channel.
This discord bot is incredibly helpful if you need to track user activity in your discord.
The Best Discord Bots for Fun & Engagement
The main point of Discord is to build a sense of community. There are plenty of discord bots that you can use to make your server more fun, livelier, and all-around more engaging for your members.
Polling Bot
People love to give their opinion and feel like they are contributing, and poll bots make it easy. The most well-known polling bot is easypoll. This bot allows you to set up polls and allows users to vote using reaction emotes.
Poll Bot Plus is also a great voting bot. It's easy to use and allows you to create polls with custom answers.
Both polling bots are fairly straightforward and easy to customize, and either would be great options for adding a polling feature to your server.
Music Bots
Although rhythm bot and Groovy bot were the best bots for music, they have been shut down. Google did not like the way these bots sourced music from its Youtube property.
Most other music bots that source music via Youtube will probably suffer the same fate. However, I'm sure that developers are working on a solution to ensure that music can be played on Discord via bot.
Currently, Mee6 still has a music function and allows you to play music from Youtube to any discord channel. It's easy to set up, and most of the features are included in the bot's free version. If you are using MEE6 for moderation anyway, it's probably best to use its music features as well. Who knows how long Mee6 will be able to maintain its musical capabilities though.
Aiode
If you use Spotify rather than Youtube, you can use Aiode to integrate your Spotify playlist into your Discord server. Aiode is the new name for the botify app that only integrated with Spotify, but Aidode allows Youtube integrations as well.
Bots that Play Games
A great way to keep your discord community active and engaged is to gamify it. There are thousands of discord bots that allow your users to interact with each other via fun games. Some offer trivia, others are based on pop culture like Pokémon, and still, others offer mini-RPG adventures.
Other Fun Bots
If your Discord server is just for fun, there's a wide range of bots you can add to increase engagement and make it more fun for members. Dank Memer automatically posts the top memes from Reddit to a channel of your choosing. Karuto allows you to collect cards of anime characters. Taco Shack lets you set up a taco stand and sell tacos.
If there's a fun and engaging thing you want to add to your Discord server, there is more than likely already a bot that helps you do it.
How Do you Get Discord Bots?
It's incredibly easy to get any of the Discord bots on this list. I've included a link to every bot that I recommend right here. Most of the bots are open-source and provide a ton of functionality for free.
However, there are thousands of other discord bots out there. There's more than likely a bot for anything that you need to happen in your discord, and it's impossible to list every single one in a blog post. So how do you find them?
The easiest way is through a simple Google search. If you are looking for a bot that does a specific function, like a bot that manages your youtube subscriptions, type that entire thing into google. It will pop up in a Google search if it exists.
If you aren't exactly sure what you are looking for, you can browse Top.gg's extensive list of bots. Top.gg is a repository for discord bots and discord servers, and you will likely find anything that exists there.
Making Your Own Discord Bots
Sometimes, the bot you need doesn't exist yet. An amazing thing about Discord is that if there isn't a bot that does what you need it to do, you can create your own. With a few programming skills, you can create a discord bot that does anything you want. In fact, most of the bots on this list were user-created!
Unless you have some solid programming skills, building a Discord bot and configuring it to do whatever you want it to do probably isn't easy. Luckily, there's already a bot for most things that typical Discord users want. However, it's good to know that the option exists if you can't find exactly what you need.
The best place to start making your own bot is Github. This is a platform that programmers use to collaborate on projects. The free plan is probably good enough for anyone using the platform to build a discord bot.
Start Incorporating Bots Into Your Discord Server!
Hopefully, this getting started guide gave you enough information and tools to start integrating the bots you need into your discord server. As you learn more about Discord and build your community, you will find other bots that will suit your specific needs, or build your own. Who knows, maybe your bot will make this list one day!
source https://partnersinfire.com/passion-fire-2/discord-bots/